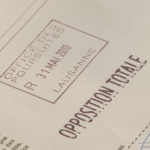 Swiss television approves THIN LINE's documentary film project AVIS DE POURSUITES. This new feature film will follow debt collectors over time at the Office of Public Prosecutions in Lausanne. Priority broadcast: Temps Présent/RTS. Expected release: 2020. 
---
Le projet de film AVIS DE POURSUITES, un documentaire en immersion au sein de l'Office des poursuites de Lausanne, est approuvé par la télévision nationale suisse. D
iffusion prioritaire: Temps Présent/RTS. 
Calendrier à suivre (2020).