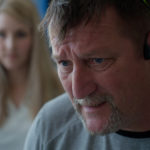 THE HEART OF PAIN (85′), THIN LINE Productions' first feature-length documentary, gets coproduction approval from Swiss public television RTS and ARTE.
Why are we so unequal in the face of pain? Do we have any levers to modulate it? Does suffering – or overcoming pain – still have a meaning today while medicine is constantly progressing?
A film directed by Marc Wolfensberger, in collaboration with Marcel Schüpbach. Camera: Camille Cottagnoud, sound: Gilles Abravanel, editor: Delphine Schnydrig, original music: Sara Oswald.
---
RTS Radio Télévision Suisse & ARTE entrent en coproduction dans le film VOYAGE AU COEUR DE LA DOULEUR / ANATOMIE DE LA DOULEUR, le premier long-métrage documentaire de THIN LINE Productions.
Qu'est-ce qui fait que nous sommes si inégaux face à la douleur ? Est-ce que nous avons des leviers pour la moduler ? Est-ce que souffrir – ou dépasser sa douleur – a encore un sens aujourd'hui, alors que la médecine ne cesse de progresser ? Voici les questions au coeur de ce film, réalisé par Marc Wolfensberger, avec la collaboration de Marcel Schüpbach. A la caméra: Camille Cottagnoud, au son: Gilles Abravanel, au montage: Delphine Schnydrig. Musique originale de Sara Oswald. 
.